For Foreign Travelers visiting Yokohama
Yokohama is a port city with a population of over 3.7 million which makes it the second largest city in Japan following Tokyo . It is located less than 30 minutes south of Tokyo and can be accessed from Tokyo International Airport (Haneda) by train or limousine bus in the same time frame.
Ports in Yokohama was one of the first to be opened to foreign trade in 1859, which until then Japan maintained a policy of seclusion towards the end of the Edo Period (1603-1867). Yokohama has been actively acquiring new cultures and lifestyles from foreign countries which brought to Japan many first-time-ever things such as food, medical, sports, fashion, architecture and a wide range of cultures, which entitles Yokohama as the birthplace of Japan's modern culture.
These historical backgrounds and traditions cultivated long ago has been incorporated into the present fashionable and sophisticated streetscape. The mix of historical essence, the new and advanced cityscape, and the harbor environment makes Yokohama very unique which is why it has been attracting many domestic and foreign tourists until today.
You can still feel the historical traditions and experience things today and enjoy the latest tourism spots at the same time. There will always be something for you to enjoy and appreciate in Yokohama. HAVE FUN!!
Last Update:
Latest on Quarantine measures entering Japan
From 0:00 am (JST) on April 29, 2023, about all travelers and returnees, All travelers and returnees will no longer be required to submit either a certificate of negative result of COVID-19 test conducted within 72 hours prior to departure, or a valid COVID-19 vaccination certificate of three doses or equivalent.
Currently implemented measures including random sampling test which are provisional measures for all travelers and returnees arriving from China (excluding Hong Kong and Macau) by direct flights, will be replaced to the testing on arrival required to those who show symptoms, which is the same measure applied to all other travelers and returnees.
Visit the Ministry of Foreign Affairs of Japan website for the latest border measures to prevent the spread of novel coronavirus (COVID-19).
Updated on

September 6, 2023
Latest on Border Measures of entering Japan
Regarding new entry of foreign nationals into Japan, based on the New Border Measures (34) dated on September 26, 2022, prescribed applications in the Entrants, Returnees Follow-up Systems (ERFS) is no longer required. In addition, the measure to limit the entry of foreign tourists to those on package tours was lifted.
Furthermore, visa exemption arrangements will be resumed from 0:00 am (JST) on October 11, 2022.
Visit the Ministry of Foreign Affairs of Japan website for the latest border measures to prevent the spread of novel coronavirus (COVID-19).
Updated on

January 10, 2023
COVID-19 Multilingual Guide by the Government
Visit the government website for the latest reference on preventing COVID-19 (novel coronavirus) and stopping its spread. Available in 21 languages.
Updated on

August 6, 2022
Coronavirus (COVID-19) Updates and Resources for Travelers
Whether you are visiting or planning a trip to Japan, you can get the latest COVID-19 information, healthcare and medical travel insurance information on the Japan National Tourism Organization (JNTO) website, Twitter account and Japan Official Travel app (Android / iOS). In the case of emergencies, you can call the 24-hour Japan Visitor Hotline +81-50-3816-2787 (24/7 emergency assistance in English, Chinese, Korean, and Japanese).
Regarding the latest information on the Coronavirus Disease 2019 (COVID-19) please visit the Ministry of Health, Labour and Welfare (MHLW) website for the latest information. For 中文简体, please visit 有关新型冠状病毒感染症(厚生劳动省).
If you suspect to have COVID-19 or you test positive for COVID-19, contact the Coronavirus Hotline. The MHLW multilingual hotline is staffed from 9:00 a.m. to 9:00 p.m. (Japan Time) daily. You can call 0120-565-653 (toll free) while you are in Japan. Information is available in English, Korean, Chinese, Portuguese, Spanish, Thai and Vietnamese.
Updated on

August 6, 2022
Multilingual COVID-19 information for foreign nationals
For the latest COVID-19 related information aimed at foreign nationals in Tokyo, visit Tokyo Metropolitan Government. You can get the latest updates on COVID-19 in Tokyo, medical information, COVID-19 countermeasures, living information for foreign nationals residing in Tokyo.
They offer general advice concerning any worries you may have regarding COVID-19 and new variants etc. You can call 0570-550-571, from 9am to 10pm everyday. For those with symptoms such as a fever, you can call the Tokyo Fever Consultation Center at 03-6258-5780 or 03-5320-4592 for consultation. Avaiable 24/7. Both are avaiable in 日本語 English 中文 한국어 ภาษาไทย Tagalog TiếngViệt नेपाली မြန်မာဘာသာစကား Français Português Español.
If you are in another prefecture (outside of Tokyo), locate the COVID-19 Consultation Center in your region. Do not go to a medical institution right away. If you are visiting Yokohama, refer to Kanagawa prefecture. They also offer Phone Counseling Services (three-party call through an interpreter) at 0570-056774. Japanese staff will answer the phone, and you can have a conversation with assistance of an interpreter. Available in English, Chinese, Korean, Portuguese, Spanish, Vietnamese, Thai, Russian, Indonesian, Tagalog, Nepali, French, Burmese, Khmer and Sinhalese.
Updated on

August 6, 2022
YOKOHAMA Tourism Information Sites
YOKOHAMA Tourism YouTube Videos and Vlogs
Below Travel Vlogs by a journalist traveling with her husband, Renata Pereira, is one of the best videos that shows the "reality" of Japan Travel. Not only she visits the famous tourist places but goes beyond and tries out to experience and feel the local culture more in depth. In her narration she briefly explains what that place is like for visitors and also talks about tips and tricks to enjoy better.
What I'm mostly impressed is that she also explains the statistics and historical background of each places just enough so that visitors get a better picture of why and how the place has become as what it is today. From my perspective, as a local in Yokohama and a tourism expert of Yokohama, her video is "spot on". She literally presented everything that a local would like to show Yokohama, with just enough information for foreign visitors to enjoy. It's entertaining and has noteworthy information. If you are traveling to Japan for the first time, I would just follow what she has done.
She flies into Japan from Narita Airport which is in Chiba Prefecture, and travels into Tokyo where her trip in Japan starts. Since this site is about Yokohama Tourism, I picked the videos of her visit in Yokohama below. She also has many other videos of Tokyo and others. I highly recommend this video before you visit Japan. She must have done a lot of research because all the spots she picked covers almost every principal places of each city. Make sure to hit the like button and subscribe if you find her videos useful! Enjoy!!
Special Meal Preference - Vegetarian and Halal Food
If you are a vegetarian or have religious dietary needs, it may be the most inconvenient things to find while traveling in Japan. Even vegetarian menu is very very very rare. Not until the government addressed the inbound policy towards the Tokyo Olympics 2020 few years ago, even the famous high rank hotels and high class restaurants were not conscious about these preferences.
Recently, several large chain stores and hotels and restaurants that focuses on interenational travelers, they are aware of these neeeds but are still slow on developing the additional services. There are just handful even in mid Tokyo.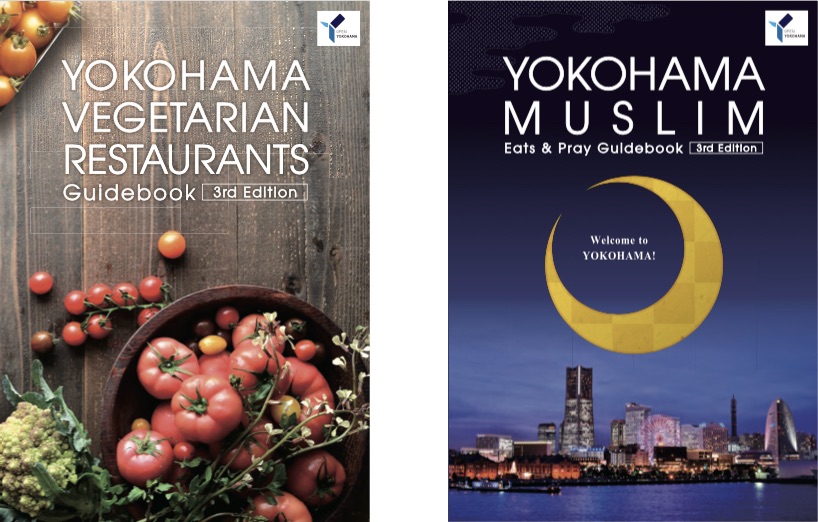 The situation in Yokohama is more scarce but Yokohama City has created a website regarding Muslim Tourist Information. Not only you can find information about where you can have Halal meal but also where you can shop halal food and facilities that offer prayer mats and compasses. You can also download the Yokohama Muslim Eats & Pray Guidebook (PDF) which is very handy to have on your smartphone while you travel.
For vegetarian travelers, there is no dedicated website but you can download the Yokohama Vegetarian Restaurants Guidebook (PDF). I would recommend to call the restaurant or the facility beforehand just to make sure they still serve those promised services as these can change according to demand.
Precautions During the Summer - Heat Stroke
If you've ever been to Japan during the summer, especially to major cities like Tokyo, you know how the heat and humidity can sometimes be really high and unpleasant. In recent years, due to global warming, days exceeding 30℃ (86℉) has become more frequent and concerns of getting heat stroke is rising. Heat stroke often occurs as a progression from milder heat-related illnesses such as heat cramps, heat syncope (fainting), and heat exhaustion. But it can strike even if you have no previous signs of heat injury.
Heat stroke warning is sent out each day by Japan Meteorological Agency (the national weather service of Japan) and by the town or city to take necessary precautions. When the temperature exceeds 35℃ (95℉), staying indoors and refrain from any sports activities is highly recommeneded. Make sure to drink water frequently and also taking in reasonable amount of sodium is needed. You should be able to intake enough sodium through your daily diet but if you think you need to take in more, there are sports drinks (POCARI SWEAT and AQUARIUS) and special water for dehydration (OS-1) is sold in Japan. You can buy them at any local store.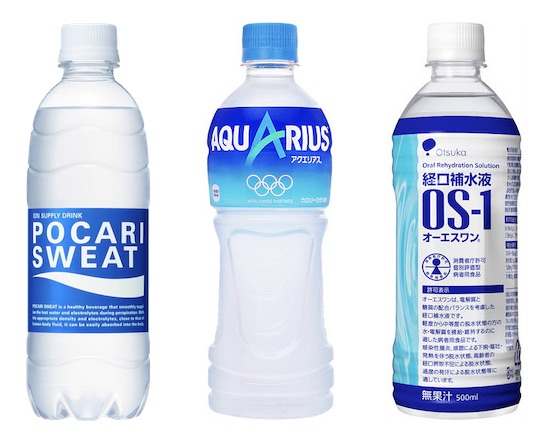 It is particularly important to replenish your sodium levels if you have been sweating heavily. However, please be careful if you're on medication or restricted the amount of water or salt to ingest. Please make sure to follow your doctors instructions.
When you encounter early stages of heat stroke symptoms, quickly move to a cool place away from direct sunlight and try to cool down the body. Also, take in water and sodium as necessary. If you have difficulty drinking water or if you don't seem to be recovering, you should get medical attention or call an ambulance (call 119) if necessary. You can read more about heat stroke at Heatstroke Zero (Japan Weather Association) and Heat stroke measures (City of Yokohama).
Medical Assistant Information
If you happen to become ill during your travel, "guide for when you are feeling ill" website by Japan Tourism Agency has many useful information. You can search for medical institutions near you that may be able to help in your desired language and symptoms. There are instructions on how to use Medical Institutions and also some information about Travel Insurance which may be a great help for your treatment. In case of an emergency you can always dial 119 for an ambulance.
Translation App
When you are taraveling in Japan, you probably find that most of the signs and directions are written in both Japanese and English and few more others in major cities so it is pretty much straight forward getting around. If you are visiting large facilities such as shopping malls and department stores you are likely to find someone that can attend you in English or other foreign language also.
However, when you go to a local restarurant or small shops, things are quite different. Not only that everything is only shown in Japanese, most of the staff only speak Japanese. Things can get worce when you are traveling in the regions. If you encounter such situation where you need to communicate with them, the below app can be handy. It is developed by National Institute of Information and Communications Technology (NICT) and is one of the most accurate translation app out. VoiceTra supports 31 languages and can be downloaded and used for free.
In case of a natural disaster
If you unfortunately encounter some kind of natural disaster while you're traveling in Japan and need to learn about what is going on, it may be quite frustrating. In major cities like Tokyo and Fukuoka, there are new technologies to show useful information in multi languages but at the time of disaters most of the announcements are in Japanese only. You should check out the Disaster Prevention Portal Site by the Ministry of Land, Infrastructure, Transport and Tourism and get familiarized on the basic precautions prior to travel.
For weather and natural disaster information and precautions, you can visit the Japan Meteorological Agency website which can be viewed in 12 languages. You can also find useful safety tips at the Japan Tourism Agency website. Also, follow Japan Safe Travel (JST) Twitter account which is managed by Japan National Tourism Organization (JNTO), providing foreign visitors safety tips and latest information in case of natural disasters.
The below app can also be handy. This Application notifies a user with EEW, Tsunami Warnings, Volcanic Warnings, Weather Warnings, Heat illness Warnings and Civil Protection Information issued in Japan.
It's a free application developed under the supervision of Japan Tourism Agency. It also provides various functions useful for foreign tourists in Japan. It is available in five languages: English, simplified and traditional Chinese, Korean, and Japanese.
Safety tips (for Android)